Illustration by
Max Brown
Blurbs by Jesse, Sean & Christof
—
October 12th, 2015:

Nomads
Year: 1986
Director: John McTiernan
Format: Amazon
From IMDB: A French anthropologist moves to Los Angeles and is followed by the evil spirits of an extinct tribe he once uncovered.
Tagline:Â A Nightmare By Daylight!
Jesse's Take:
What I liked:
It had a pretty dope 80's synth score for some good chunks, so that was pretty cool. Also the ending, dug the shit out of  the ending.
What I didn't like:
Everything else.
Final thoughts:
Terrible movie, fantastic ending. It was fun seeing McTiernan's first directorial effort, and  you could see that he was rather competent at making a movie. It was however unbearable at times listening to what would end up being his only attempt at writing a film, as he was beyond incompetent at this aspect of the filmmaking process.
Christof's Take:
 
What I Liked:
Not much.
What I Didn't Like:
Much.
Final Thoughts:
80's horror is often viewed as a subgenre, and I can appreciate this retroactive categorization based on identity-stamping a decade. But despite the 80's being such a peacock that often seemed to fan the same plumage over and over within the horror genre, there are a lot of different flavors contained. Undeniable masterpieces like The Fly and The Thing rub elbows with easier-to-deny masterpieces like Hellraiser, The Lost Boys, and From Beyond, all of which mingle with dubious shit-heels like TerrorVision and Pieces (I say as an insult to the former and a compliment to the latter). These movies have almost nothing in common with one another except they all taste like the 1980's, seeming like they could only come from such a period.
Nomads is unique, and definitely has flavors of the 80's (the score, the fashion of the nomads, the vibe of the editing) — perhaps more so than the flavors of horror. But I could not enjoy the taste, which is an odd feat considering much of my enjoyment of the 80's horror catalog can framed by an enjoyment of the unpalatable or an appreciation of choices so bizarre that they would never be made today. But the flaws and datedness have not aged well enough to be associated with charm.
It's not so bad that it's good; it's so average that it's bad.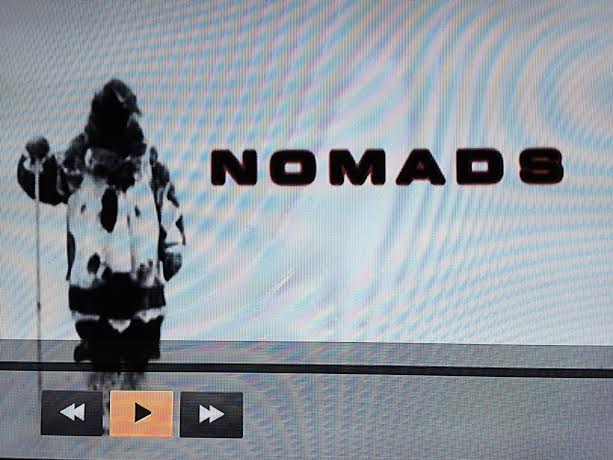 Sean's Take:
What I liked:
I was engaged with the playful relationship Pierce Brosnan's photo-journalist/anthropologist character shared with his wife (played by Anna Maria Monticelli). Their French-drizzled American accents felt a bit phoney (not that I have the expertise to judge accurately), but their chemistry felt accomplished and authentic.
A framework ripe with potentially dramatic scenarios was established early. We follow a nurse who witnesses a man die — because of her proximity to the death-moment, she goes on to hallucinate the life events of that man (from his POV) in the days leading up to the death. It didn't feel revolutionary, but it felt like someone was pulling the strings in an effective way.
It was Die Hard director John McTiernan's first feature and I credit him with the few bits of moody tension that managed to fulfill the yearning potential I felt bubbling in the premise.
What I didn't like:
The script, penned by McTiernan, felt like a first draft rendition of a dream he once had — but couldn't really remember the details of. It had great ideas buried in limp interactions and fuzzy sequences of meandering action leading up to moments of near-conflict.
I still don't really understand the motives of the titular nomads (nor did I enjoy any sort of charismatic/enigmatic vibe that could have made me forget about this lack of clarity). The mythology McTiernan hinted at was strong but we didn't get to see it play out in any sort of interesting or meaningful way.
Final thoughts:
Probably won't revisit this one. I rarely do when the first-viewing of a movie invokes the sleepy-fog — a familiar atmospheric phenomenon which occurs in the brain when a horror movie doesn't scare or entertain enough to maintain a state of active attention. 
OCTOBER DIARIES 2014
---