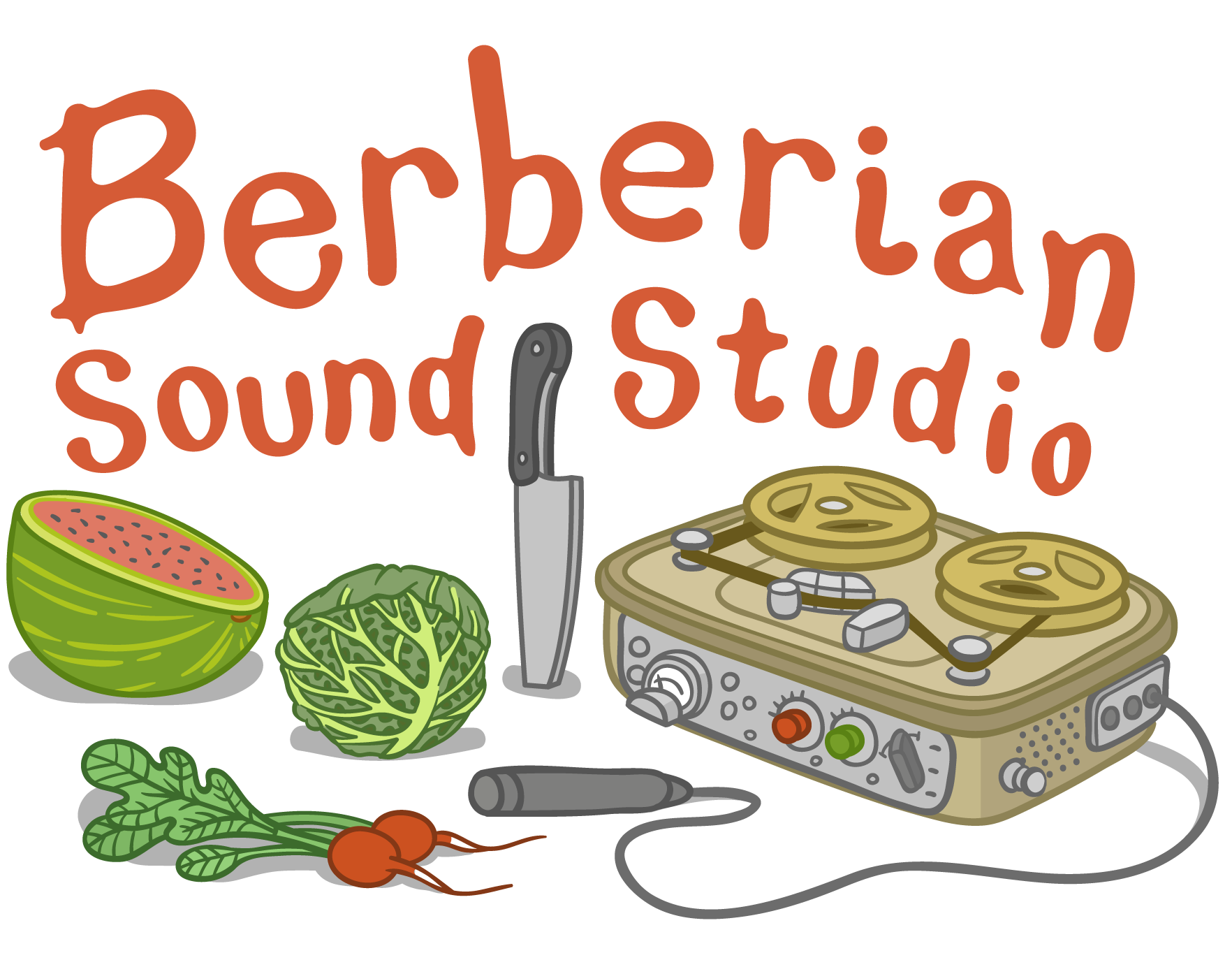 Illustration by
Max Brown
Blurbs by Sean & Christof
—
October 8th, 2015:

Berberian Sound Studio
Year: 2012
Director: Peter Strickland
Format: Netflix
From IMDB:Â A sound engineer's work for an Italian horror studio becomes a terrifying case of life imitating art.
Christof's Take:
What I Liked:
Almost everything, I think!
Immaculate, truly inspired images cut together with a grim panache projecting an epic poem of nightmarish ennui.
Another showbiz horror! I also liked that it borderline isn't horror. It is horror in its evocation of horror. But it is also horror in that it is painstakingly detailed psychological horror.
I loved seeing how different gruesome sound effects can be made. It felt like watching a tutorial at times.
In my blurb on Stage Fright, I praised it for the deep irony that comes with having the notion of non-diegetic sound and music take place as diegetic sound and music. This one takes place almost entirely in a sound studio and it runs with that particular relationship throughout.
I like a movie that isn't afraid to get funky with form, and this one brought me some very lovely treats and trinkets that much of narrative cinema is afraid to offer.
What I Didn't Like:
The pace is very specific, and I'm on the fence about the film's ending as it returns to this pace. It had moments of brilliant formal escalation that made me believe (and sometimes hope) the ending was just around the corner. I want to believe the better film experience would have ended a little earlier for me, but I think the film's active conceptual ingredients and possible deeper meanings may actually require it to go on. Not entirely different from a similar conflict I have with the ending of A.I. Artificial Intelligence.  
Final Thoughts:
Showbiz horror — who knew? The month seems to be front-loaded with these puppies. And after this one, we may not be able to return to the genre. While Stage Fright is still my favorite, Berberian takes the showbiz part extraordinarily seriously — although admittedly on the technical, behind-the-scenes side.
This act of creation is also an act of destruction regarding the main character's psyche. It is the showbiz But more than that, it is mood horror. Peter Strickland's Berberian Sound Studio is penultimate perhaps only to David Lynch in perfecting mood horror. As the film kills off no one and is centric to cinema's unnecessary-yet-necessary relationship with sound, you could make the argument that it is a manifesto or poetics on mood horror.  
Sean's Take:
What I liked:
The heavy emphasis placed on sound. Â That sounds obvious but the sound design was as layered and marvelous as the film necessitated. We spend a lot of time absorbing sounds wash over us and listening-in as they are manipulated. Manipulation is a theme in this one and thankfully Peter Strickland had a firm handle on knowing when to manipulate his characters and when to manipulate his audience.
Another entry in our first trend to emerge out of the month: showbiz. Thus far, the movies we've watched that had something to do with film/tv/theatre have vastly outnumbered the ones that haven't.
Toby Jones has a face that can shoulder the amount of screentime he gets. He was saying a lot in this movie without having too much dialogue at his disposal. The letters of correspondence he receives from his mother end up serving as the closest thing his character gets to a confidant. His struggles adapting to living in Italy while working on an Italian horror film called The Equestrian Vortex is a beautiful device to help the dread find easy access to his psyche.
The extended sequences of foley work and ADR sessions were the defining mood pockets (those, along with a few formal departures from straight-narrative storytelling). If you weren't enjoying these deliberate sequences the film would likely be lost on you. The session where we observe an actress give 110% of herself to voicing the mad cackles of a cinematic witch felt like one of the high points.
What I didn't like:
I can't tell if a lot happened or almost nothing. This might be a complaint or a compliment. Leaning toward the latter.
Final thoughts:
After already seeing Duke of Burgundy, and enjoying that film's stylistic command, I was excited to see what Peter Strickland could do in the horror/thriller genre. After getting a fresh dose of his carefully composed nightmare-mood-float I can't wait to see what he channels next.
OCTOBER DIARIES 2014
---