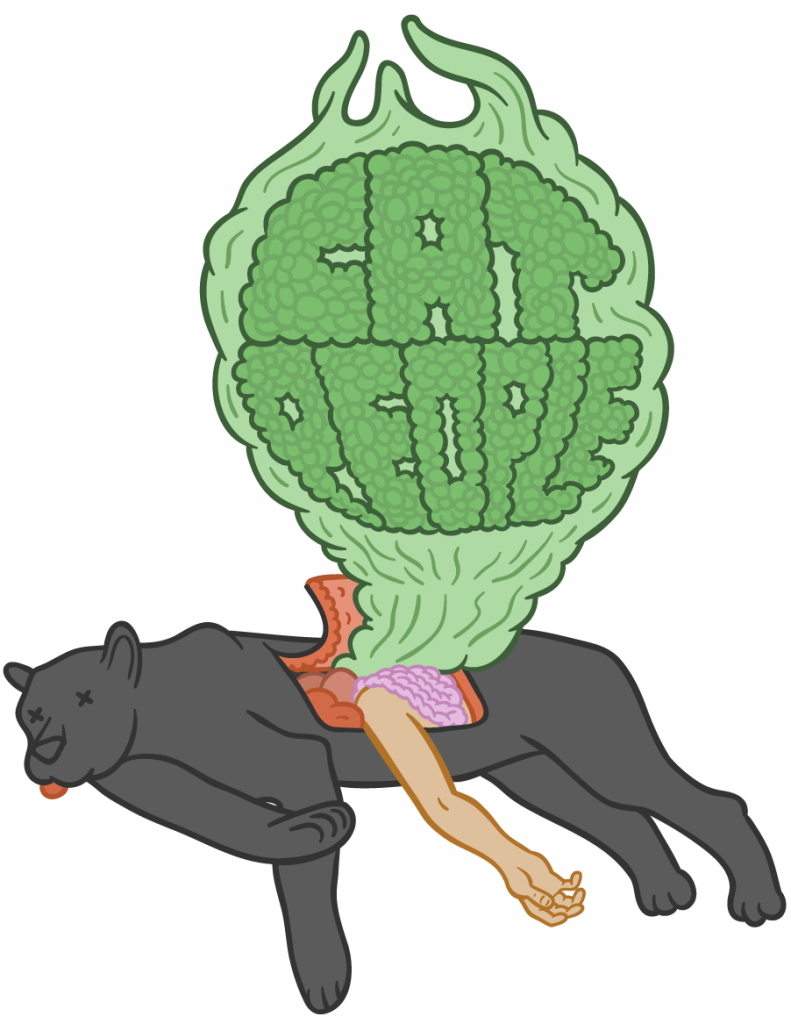 Illustration by
Max Brown
Blurbs by Sean and Christof
—
October 6th, 2014:

Cat People
Year: 1982
Director: Paul Schrader
Vehicle: DVD
From IMDB: A young woman's sexual awakening brings horror when she discovers her urges transform her into a monstrous black [panther].
 Christof's Take:
I have to admit I wasn't very present for this movie. I got sucked into my notebook, but that alone is a good review of a movie: anything that gives you ideas has merit.
What I do know: Paul Schrader made a horror movie.
It has one of my favorite opening credit sequences ever. It's poetically simple but rich shot of blood-orange sand that is being blown away by the wind, revealing skulls and bones that have been buried there. The shot slowly pulls back to show just how many skeletal remains there are.
Pretty early there is a scene introducing the horrific elements. A woman who has recently stripped down to her underwear is chased by a mysterious "creature" until she stumbles down some stairs, ends up lying on her back and starts to scream as her top pops open in the front like it awaits the musical accompaniment of a slide-whistle and a cork-popping sound effect.
This is ridiculous. This is intentional.
It's a bold, goofy-as-fuck move, but it happens for a reason. The movie is all about sex. And cats. Animal urges and all that.
It's not just about sex subtextually — it's most of the text. Sex motivates the plot and is fundamental to the overall concept, which means there's a lot of slow, stylized nude scenes featuring Natassja Kinski, whose — forgive me — bodily presence is a muscular and aesthetically appropriate human version of someone who is a part-time panther.
One of my favorite moments is when Irena (Kinski) is shown her family tree, which is both figurative and literal — a tree on the branches of which a bunch of horny panther brothers and sisters lounge.
The music and cinematography have great sexual chemistry, fucking each other tantrically, sometimes evoking the same kind of cinematic seduction at which David Lynch is much more skilled. David Bowie hums along with the opening theme and sings the closing theme, but I think this slow, long piece of mood-horror would have benefited if it had Bowie sing over each of the sex/nude scenes. I might be joking, but I might not be. I'll let you know if I ever find out.
The movie itself slinks along slowly, confidently, bleakly — much like the strut of the cat, concerned with itself and not with you. The film is as cool as a cat. Or, at the very least, it's as cool as a cat thinks it is.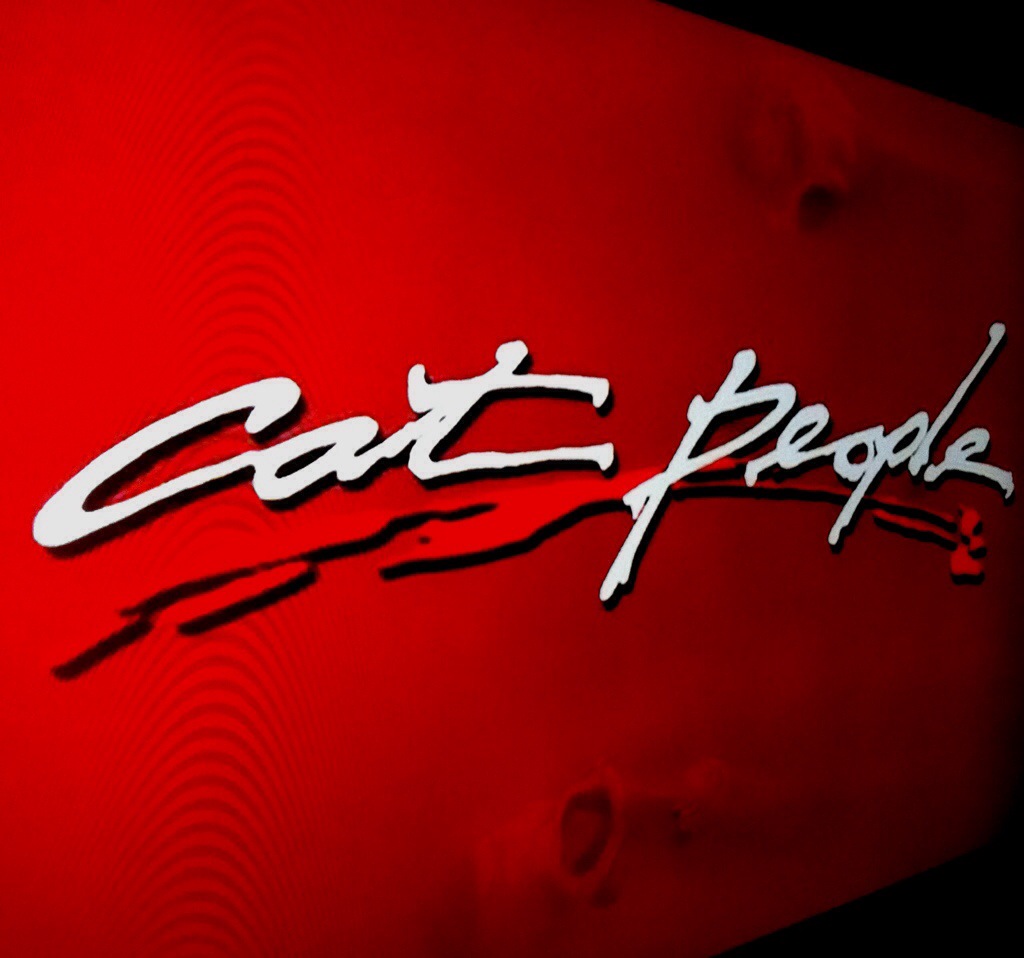 Sean's Take:
Cat People focuses more energy on style than plot. If you're capable of adjusting your viewing frequency to a level that isn't tethered to any stringent notions of pace, a level that appreciates a good simple merging of image and sound, you'll find a lot to enjoy about Paul Schrader's 1982 remake of the 1942 movie of the same name. If you're prone to foot-tapping at the first sign of pace slippage, then this one might prove to be a trial.
When it was over I was struck with how few interesting ideas I mulled over during the sit. I usually have one or two half-baked analyses of any given movie, but this one just washed over me without inciting thought spirals. There's plenty to chew into, a lot of sexual energy running through this movie that could be parsed out and examined in greater detail by someone who wants to put in the work. I was left with a more simple reaction to the movie. By the end I just had some vague impressions of what I liked.
Here are a couple:
I liked the use of big cats in a horror movie. Their lethal sleekness is ideally suited for the creeping and mauling that is necessary for the genre.
I liked Giorgio Moroder's appropriately atmospheric music (Moroder you might know as "that Italian guy who talks on that track from that Daft Punk album").
I liked it when the humans behaved like cats, preening around rooms and enunciating with their shoulders. For a movie called Cat People, I could've used more of this.
I loved the scene when an autopsy is done on one of the fallen cat people. Cronenberg would likely offer a nod of respect to Schrader for his deft use of outrageous body horror during this sequence.
I also loved the matte paintings that were used extensively in an opening sequence that helped establish the vague mythology behind the cats. The paintings looked like posters I'd find in the fantasy section of old bookstores when I was a kid.
Cat People gave me a lot of good things and a couple great things.  But  it also gave me heavy eyelids. I may not revisit this one for a long time but I'm always happy to get one of these that isn't afraid to mix up the formula and this one certainly wasn't afraid to cater to more strange and singular whims.
OCTOBER DIARIES 2015
---